Bridling and Give to the Bit
Performance starts here....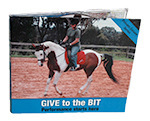 If you want to ride a horse that is in-frame, light in the bridle, concentrating on you, not shying and building all those muscles that he needs to carry you, then this is the DVD to start with.
The most important foundation DVD, Give to the Bit, takes you through this step-by-step, as set out in the lesson plan (PDF below), and will set your horse up for success and performance in your chosen discipline - be it dressage, western, jumping, eventing, polo, showing, trail riding or simply pleasure riding.